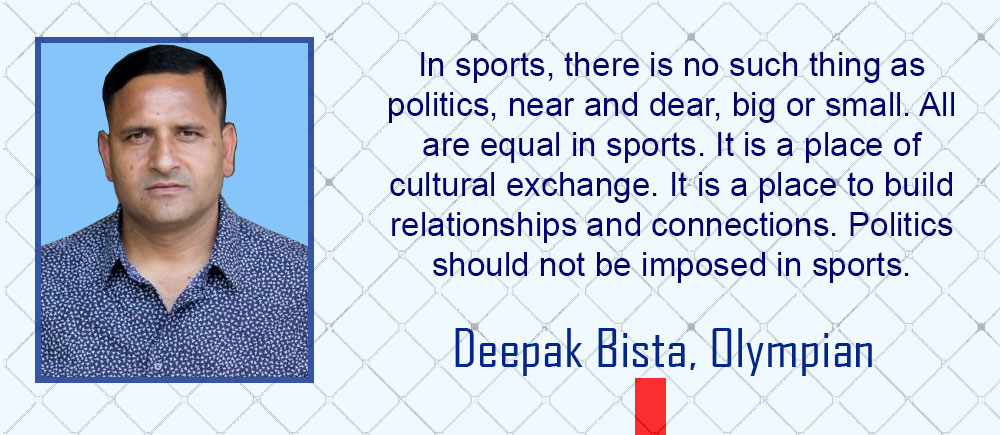 I am a taekwondo player. I played in the 2008 Beijing Olympics. I am currently the National Taekwondo Coach of Nepal. I am also the national coach of the Nepal Army. First of all, I would like to express my heartfelt congratulations to China on the success of the Olympic Games. I played in the 2008 Beijing Olympics. I think the best opening and closing ceremony ever was in the Chinese capital, Beijing.
Even after that, I participated in other Olympics. But I well remember that China hosted the Olympics very well. Now, China is planning to host the 2022 Winter Olympics, this is a good opportunity for all athletes. Having a game is very important for the players, audience and the entire sports field.
Players can show their performances through such competitions. A player can make a name for his country through his performances and art. Therefore, such competition should be organized time to time. Corona has caused various problems in the world. Last year, Japan successfully hosted the Tokyo Olympics. There were fears that Japan could not host the game. If Japan was unable to host Olympic, there would be more question.
The way Japan successfully did the non-para and Para-Olympics. I was the head of the team from Nepal. Japan did it very successfully. This shows that we must move forward together, not fearing Corona. Now Corona is getting better. I believe that China will succeed in the Olympics by preparing better than Japan.
Politics should impose in sports. . There is no such thing as big or small. It is also a model of good friendship. Many things happened in Japan during the Olympics. Some Japanese political parties have also said the game should not be played. It was said that outsiders would bring in more corona.
But after Japan successfully hosted the Olympic Games, everyone's mouths are now closed. So while doing good deeds, some bad things also come. But we should not take such things for granted. Such things come in every game. But we have to prepare better. So China is number one in this regard. China will set a new example to the world through the Beijing Winter Olympic Games. I am confident that China will do well in this game along with Corona.
In sports, there is no such thing as politics, near and dear, big or small. All are equal in sports. It is a place of cultural exchange. It is a place to build relationships and connections. Sport belongs to everyone, not just the players. Everyone should adopt sports. Politics should not be imposed in sports. The Olympic Game is going to be held in Beijing. On this, occasion I would like to extend my best wishes and sincere thanks to the Chinese people and Chinese government. I am confident that you will show the world and send a good message to the sports sector by making this Olympics a grand success even more than in 2008. Finally, I would like to express my best wishes for the grand finale of the Beijing Olympic Games once again.